Body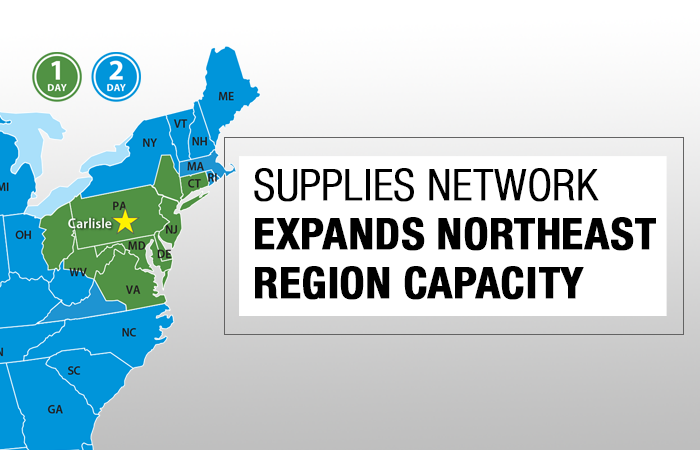 ST. LOUIS, MO AUG 7, 2019 – Distribution Management, parent company of Supplies Network, has expanded its Northeast distribution center in Carlisle, Pennsylvania to support customer demand and future growth expectations in this high volume region. The new facility is receiving inbound shipments and will be fully operational in the September timeframe.
This expansion is part of a nationwide capacity and infrastructure enhancement initiative that began in 2015, which includes doubling overall warehouse space and implementation of the latest technologies in automation and robotics. With an increase of over four times the capacity of the previous facility and deployment of the latest technology, the company expects to improve on its already industry-leading performance metrics and speed to market in this critical region.
"In today's fast paced e-commerce environment, it is paramount distribution centers respond with a fine balance of best-of-breed employees armed with leading technologies," stated Rick Goe, Vice President of Supply Chain at Distribution Management. "We're excited to bring this new facility online and begin the process of ongoing optimization."
"We are fortunate to have had five consecutive years of revenue and profit growth," added Sean Fleming, CEO at Distribution Management. "Supplies Network, our wholesale distribution business focused on business printing, and DM Fulfillment, our omni-channel fulfillment business, are both experiencing double digit revenue growth year over year. We remain committed to ensuring our operational assets and customer service resources align with the needs of our customers. We view our opportunity as a marathon rather than a sprint and this investment reflects our long-term commitment to our customers, business partners, and employees."
Once the Carlisle facility is complete, additional expansions will begin in the Dallas, Texas and St. Louis, Missouri facilities underscoring the company's commitment to future growth expectations.
About Supplies Network
Supplies Network is a national wholesale distributor offering a comprehensive line of imaging supplies and a broad selection of equipment and parts from over 80 leading manufacturers. An early innovator of Managed Print Services, the company leverages top industry talent, a dedicated IT development team with experience in packaging SaaS services, and relationships with all segments of the print-provider value chain including major supplies manufacturers and dealers. Reseller branded drop-ship reaches 99% of the U.S. population within 1-2 days via ground shipping. Visit www.suppliesnetwork.com for more information.
For further information or to schedule interviews please contact:
Distribution Management Bill Erpelding, Director of Marketing
Phone: (636)720-3222
bill.erpelding@distributionmgmt.com